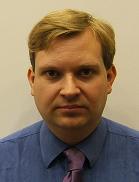 Department of Engineering
Trumpington Street
Cambridge
CB2 1PZ
United Kingdom
Email: praf1@cam.ac.uk
Tel.: +44 1223 332816
Introduction
Paul graduated from Churchill College, Cambridge in 1994 after reading Natural Sciences for two years before switching to Computer Science in his final year. He joined the Department of Engineering in 1995.
Since joining the Department, Paul has worked primarily within the Bridge Research Group, but has also been involved with projects for the Design Office. Projects have included:
Computer programs for Yield-line analysis of concrete slab and beam-and-slab bridges
Wireless sensor networks for structural health monitoring
Low-power single-board ARM based computers for use in teaching and research
Custom bootable Linux DVD for use in undergraduate teaching
Paul has also been responsible for setting up and maintaining and number of websites for various purposes, and has also been a demonstrator for the Interdisicplinary Design Project course for Part IB students.
Paul is now a Computer Associate in the Centre for Smart Infrastructure and Construction within the Department.
Links